Relocating to a new city or country, or even returning to your home town after time away, can trigger an assortment of feelings and emotions – excitement, enthusiasm, anticipation, wonder. It can also cause relocation stress.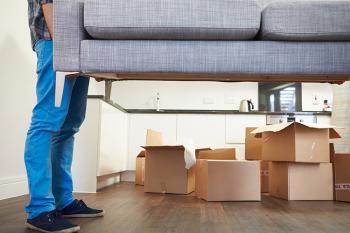 You may feel uprooted and isolated. When families relocate, it's a tough mission to settle everyone into normal routines when you're still navigating the way to your front door in a strange city.
A merry-go-round of change
Relocating isn't only a physical move, it's a merry-go-round of change – finding somewhere to live, making a home, settling children into school, connecting with community, learning the local layout and exploring the neighbourhood.
Adults anticipate higher stress levels in the first few months as they work through 101 things on their 'to do' list. But in the rush of relocation change, the needs of different family members can be lost. For children, the stress of change can often build up unnoticed. Some will cope well with settling into their new lives and others may feel anxious.
The novelty of being in a new country is usually fun at first as you explore the new town or city and enjoy new experiences. Once the dust settles, you or your family may begin to wonder about friends and family back home, and little frustrations can start to become more frequent and more noticeable.
Relocation coaching at this point can ease tensions and help everyone to feel settled.
Coaching for couples who are relocating
Relocating to another city or country may offer great prospects for one partner and fewer benefits for the other. The accompanying partner may have to resign from a great job back home or leave supportive family and friends. 
When one partner feels overwhelmed by the disruption of change, the adjustment to a new city becomes even more challenging. Fast Track coaching can help partners adapt to their new environment and view the relocation as an opportunity to try something new. I work with clients to:
talk through their concerns and feelings
understand the beliefs that accompany the discomfort or anxiety
expand awareness of opportunities
find ways to engage with the community
clarify which areas are the most important to focus on.
Coaching for families who are relocating
The aim is for your family to feel established, stable and relaxed without having to struggle through a challenging period, constantly wondering whether you made the right decision to move away from your home country.
I work with families – either as a group or one-to-one – to identify stress points before they build into serious issues.
This might include:
understanding each other's fears and concerns
helping children to talk through their anxieties
looking at issues from a different perspective
finding techniques to ease stress when confronted by challenging situations
discussing ways for family members to enjoy the novelty of their new home and become involved in their community
gaining clarity on which issues are a priority.
With any relocation, there will always be new customs and practices to adjust to. Fast Track coaching aims to help your family transition calmly into your new home, so you feel settled, included and involved in your community.